Welcome, fellow otaku's, to How Anime Stuff Works and a recap of a new anime, as one anime is finished, a new one is started and today I'll be reviewing the first episode to Kimetsu no Yaiba (Demon Slayer).
I'm quite excited to finally start this anime as I have heard so many good things about it and have been dying to watch it for quite some time, I will admit that I sort of know what happens in this anime due to my partner watching the show but it still hasn't put me off wanting to watch it! 🙂
WARNING: The following contains spoilers for Kimetsu no Yaiba, Episode 1 now streaming on Netflix and Crunchyroll.
To start of the episode we're introduced to Tanjiro Kamado, a hard working big brother, who helps the local villagers and sells charcoal to help his mum and five siblings get by.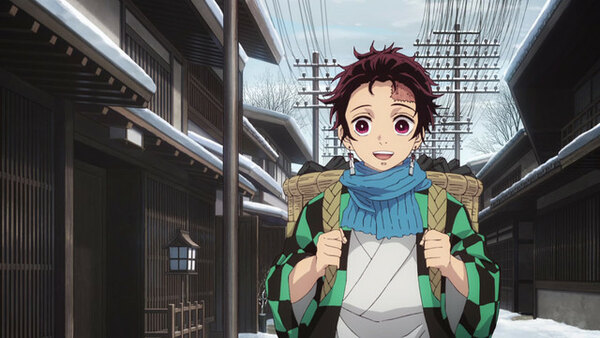 Well I fell in love with this beautiful family and guess what…They all die!
As is the norm with anime, we get introduced to a loving family that seem to have a nice peaceful life but then they all die!
One night Tanjiro is running late to get home after selling alot of charcoal and helping out the local villagers, due to a bad snowstorm Tanjiro has to wait at Grandpa Saburo's place till the morning to return to his family. The next morning Tanjiro makes his way home and find his family dead besides one of his sisters, Nezuko, the youngest, who still has a slight bit of life left within her.
Tanjiro straight away carries Nezuko back to the village so he can get help for her, but on the way there something strange happens to Nezuko. She starts thrashing about causing Tanjiro to fall off a cliff, as he gets up, Nezuko starts attacking him.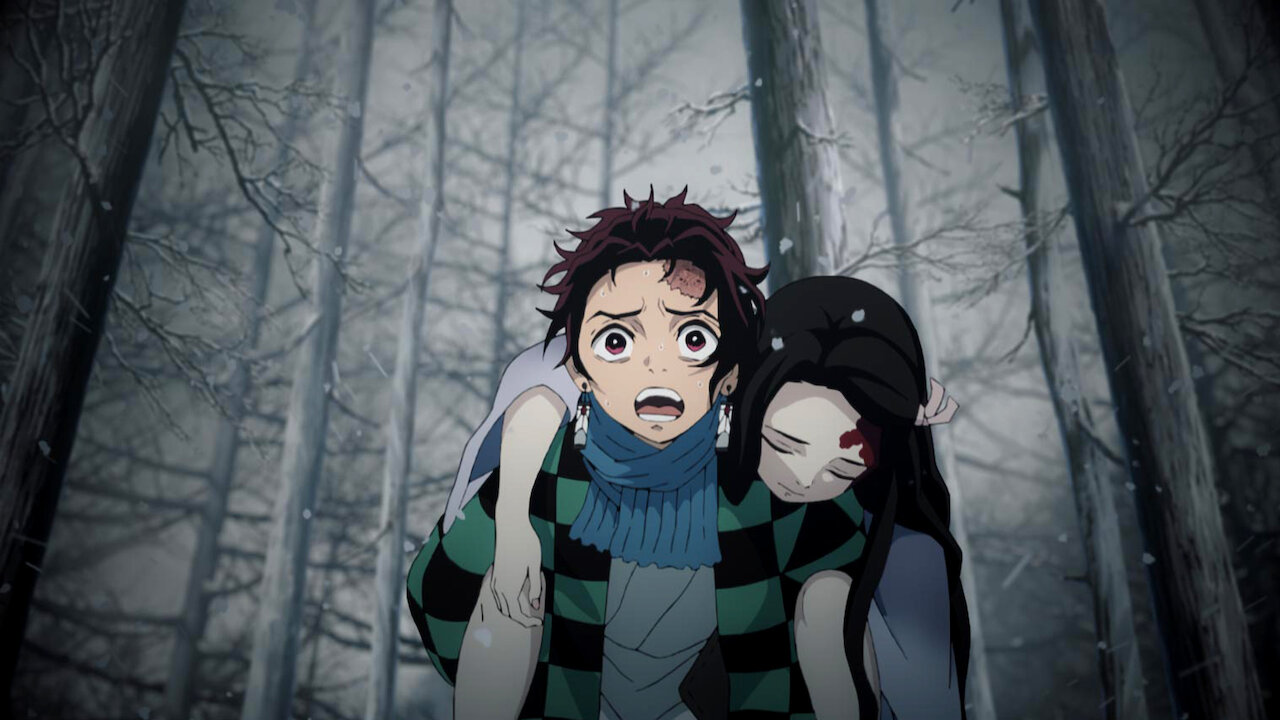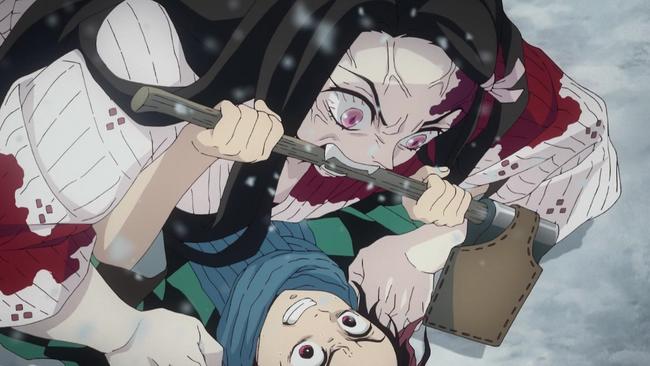 As Tanjiro tries to get through to Nezuko, telling her to stop, a mysterious figure appears and attacks Nezuko. This character introduces himself Giyu Tomioka and he is a Demon Slayer. Giyu managed to track Tanjiro and Nezuko due to Nezuko changing into a demon after being attacked one of the Demons that attacked Tanjiro's family.
Giyu also notices that Nezuko still holds some humanity and still recognizes Tanjiro, he also picks up that Tanjiro has some unique skills that could be useful in fighting the demons, so suggests that Tanjiro seeks out a man known as Urokodaki that could help them.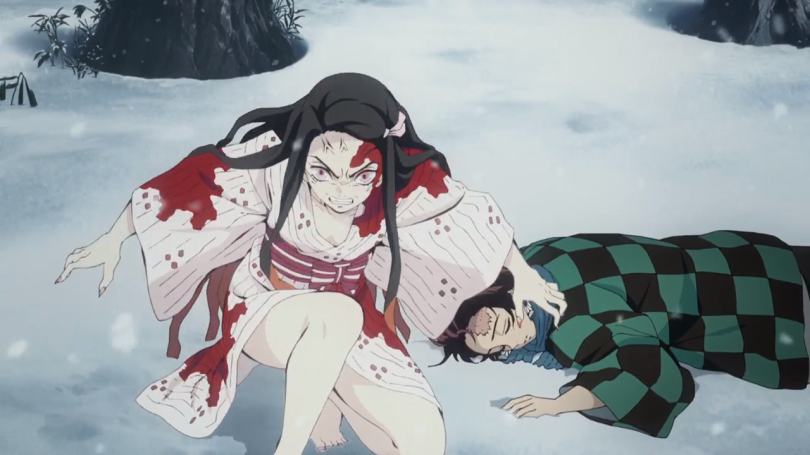 The episode ends with Tanjiro and Nezuko burying their family and running off into the snowy woods, apparently taking Giyu's advice or doing their own thing. I guess we'll find out next episode on what happens next.
My Opinion
I was pretty hesitant on picking up Kimetsu no Yaiba as I wasn't sure it would be my cup of tea, I usually stick with shoujo and mecha shows and very rarely pick up any Shonen titles, but just had to give it a shot after hearing so much about Kimetsu no Yaiba and seeing glimpses of it on social media, and truthfully I am so so surprised, episode one had me hooked straight away! I fell in love with the animation, it is so detailed and so smooth especially with the small battle between Tanjiro and Giyu.
The characters themselves seem to be so interesting and lovable, the relationship between Tanjiro and Nezuko is amazing and for her to recognize Tanjiro as her brother even after turning into a demon herself is something amazing and somewhat a miracle itself.
I am looking forward to the second episode and seeing what happens next, will Tanjiro and Nezuko find this Urokodaki? Just who is this Urokodaki anyway?
If you want to read more stuff from me then don't be afraid to check out my blog to read my most recent stuff, or looking below for some more posts. Also if you want to support How Anime Stuff Works, please consider buying me a KOFI, you can even show your support by liking or sharing this page!!!