Welcome, fellow otaku's, to How Anime Stuff Works! Today I bring you a very special post, which I am excited to share with all of you!
Awhile ago me and Art of Anime agreed to do a collaboration of our two blogs as you can tell from the title! We became very good friends since we found out that we live not that far from one another and have quite a bit in common such as our love of Animal Crossing: New Horizons!!
What I am doing today is similar to what Art of Anime has done in her post, I'll be picking out 5 of her posts and talking about them aswell as giving my opinion about them. BUT before we get started please feel free to check out her part of the collaboration and give Art of Anime a follow! 🙂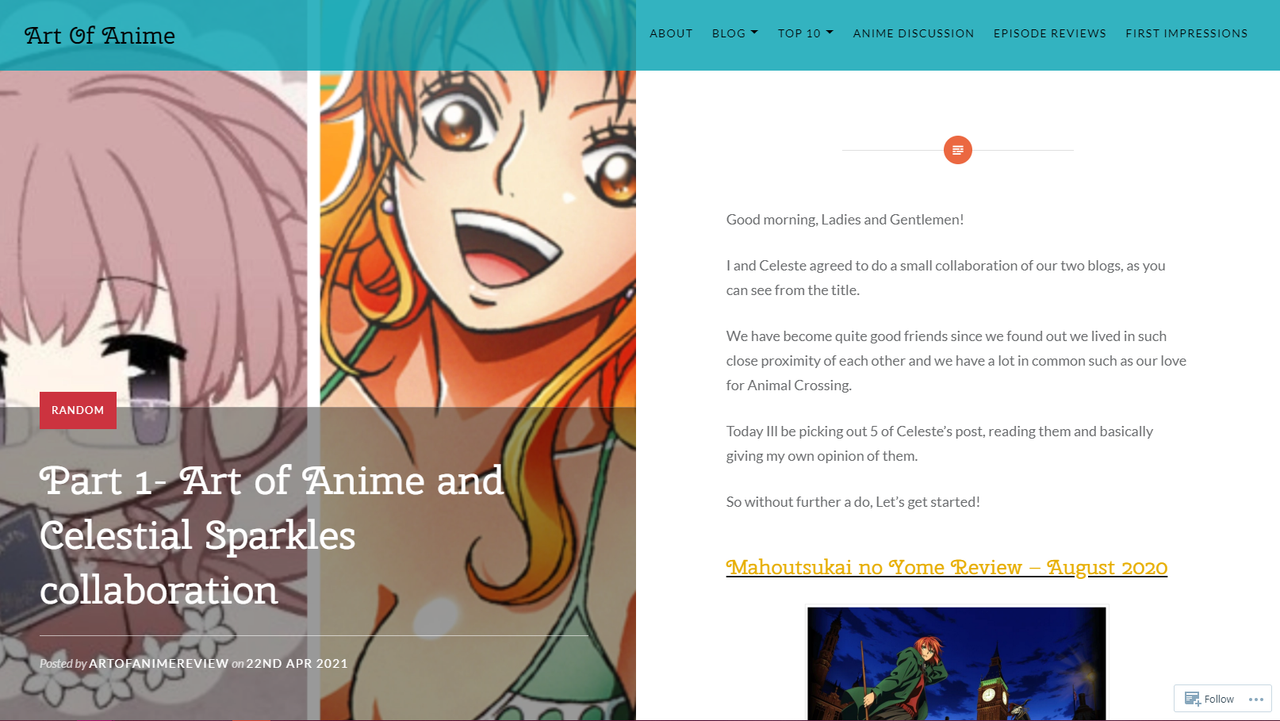 Anyway without further ado, Let's get started!!!
My Top 5 Favourite Anime OST – April 2021.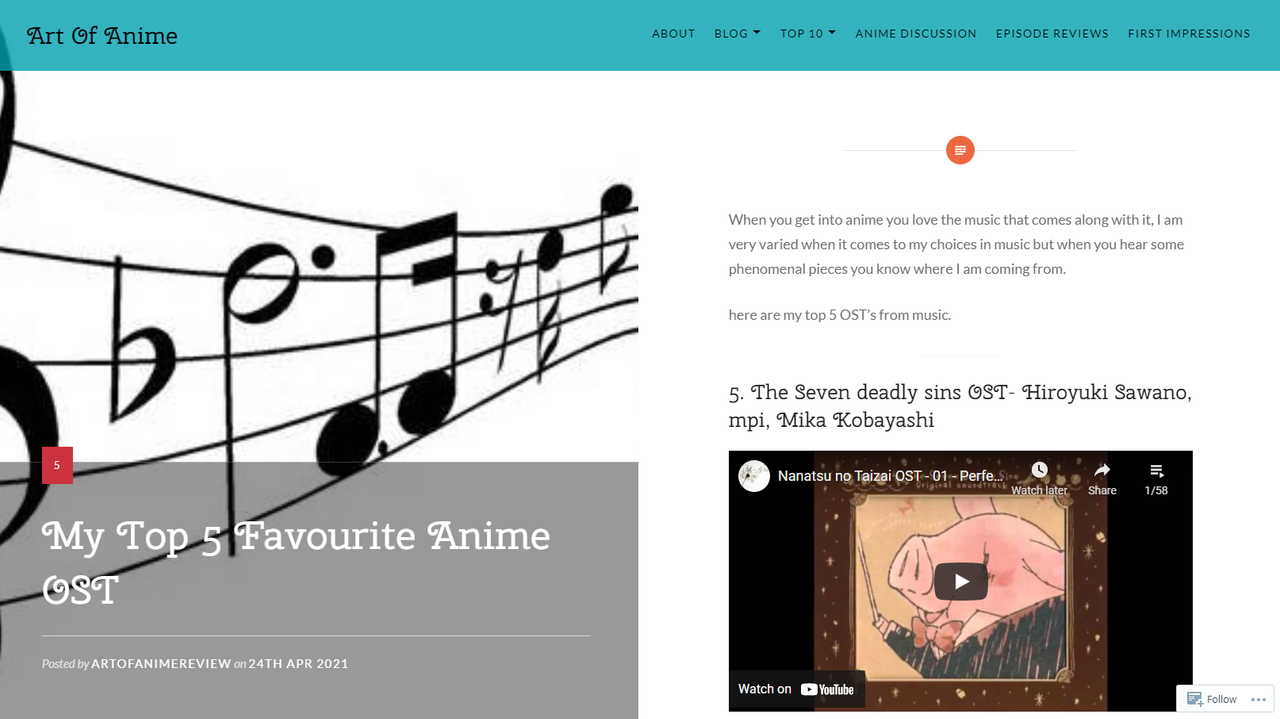 This is Art of Anime's most recent post that I really enjoyed reading, here she lists her top 5 favourite anime OST's and while most of them I haven't heard off, I must admit that she does have a great taste in music and has a varied selection.
While I adore the Gundam franchise alot and am starting to be a big fan of it, I am always looking for more anime to watch or manga to read, with this small list I already have a few more added to my list! Haha!
Though I have to admit Person 5 and Person 5 Royal just have a solid OST throughout, I so need to complete my playthrough of the games!
Anime Discussion: Relating to Fruits basket on a Personal Level – April 2021.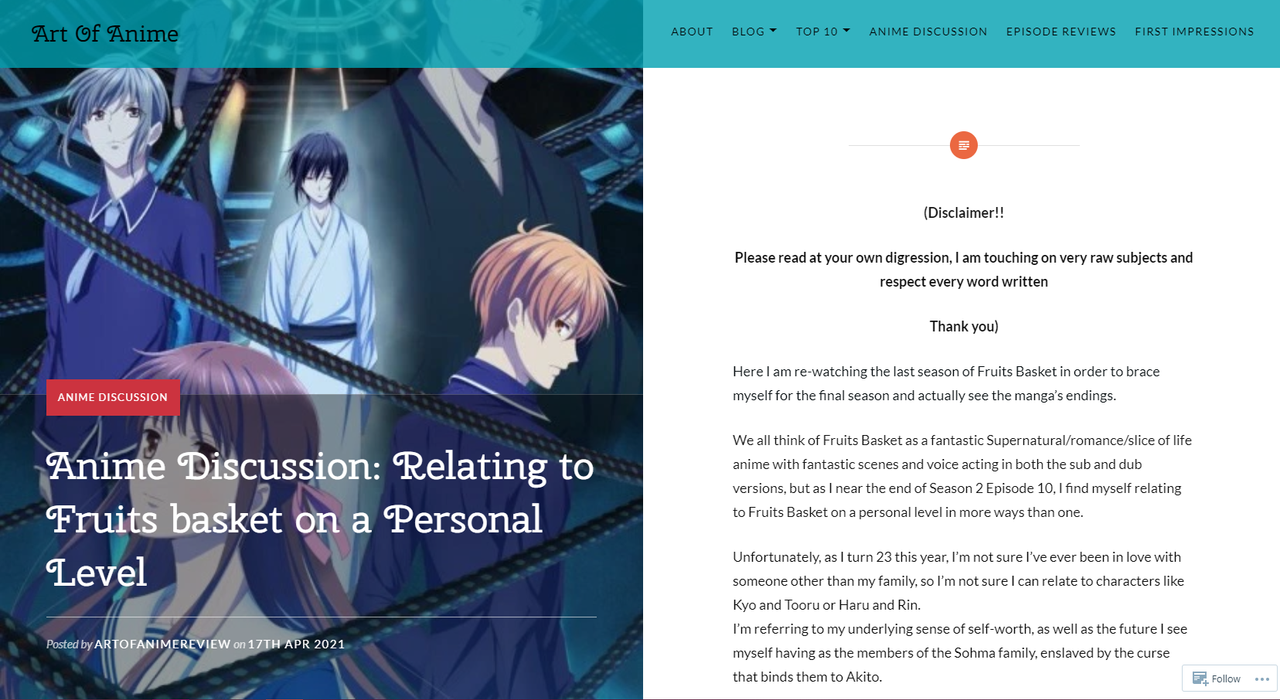 This post is quite an interesting one, and something I do relate to in some way. In this Art of Anime talks about how she relates to Fruits Basket on a more personal level. It's a more personal blog post and quite different from what she usually blogs about.
Just like Art of Anime I do relate to Fruits Basket on a more personal level, but due to different personal reasons, with this blog post, Art of Anime has got me wondering what other anime or characters do I relate too on a much more personal level.
Anime Discussion: The Anime Characters I absolutely despise – March 2021.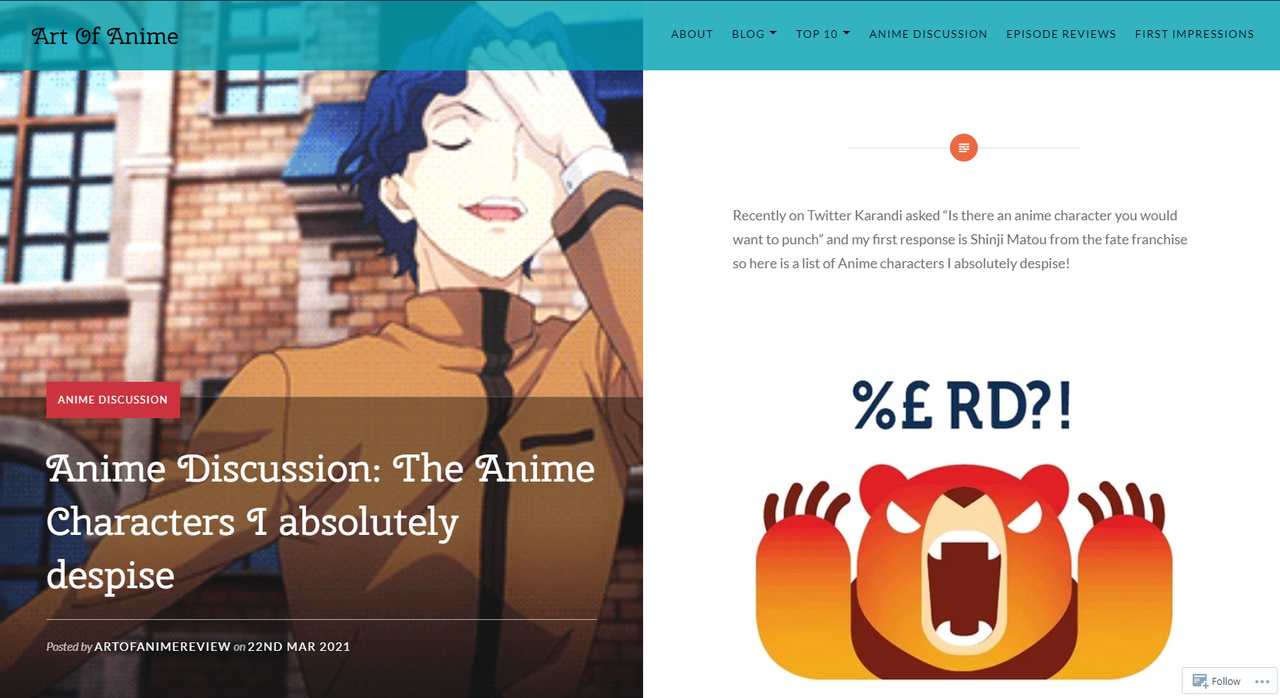 Now this is something that also caught my attention, I always see people talk about anime characters that they love and adore but hardly anyone speaks about anime characters that they despise so much!
I totally hate most of the characters on this list, (besides Kill La Kill, I need to watch that!) and totally think that all of them need to be strapped to a rocket and sent of into the nearest black hole in space, what Shinji Matou did to Sakura Matou was just no…nope…nadda….lets just say that if I met Shinji in reality I would get pretty nasty with him.
Same with Shou Tucker, I hate him with a passion for what he did to Nina, his daughter, and her faithful pet dog! It really just made me so angry and upset!!!
5 Anime I've started but not finished yet – January 2021.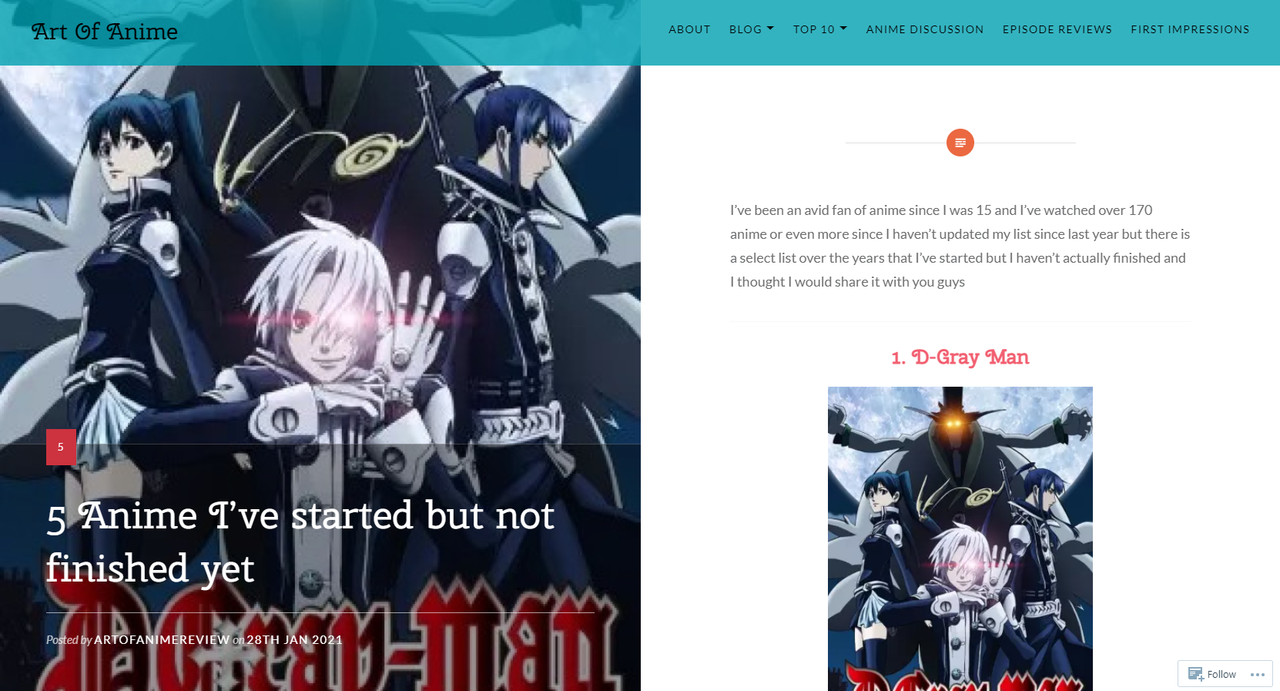 I had to choose this one as I so have a habit of starting so much anime and never finishing it!! Haha!
I so have a long arse list of anime to finish watching but tend to the habit of picking up newer anime and putting stuff on the back burner to finish watching one day in my life!
Some of the anime Art of Anime talks about I haven't got round to completing yet, I watched this first episodes to D-Gray-Man and Death Note but got no further then that!!
Though I do think that Art of Anime should really finish Welcome to the Ballroom and Space Dandy, all I can say is that they're both brilliant!!!
The Ancient Magus Bride – December 2020.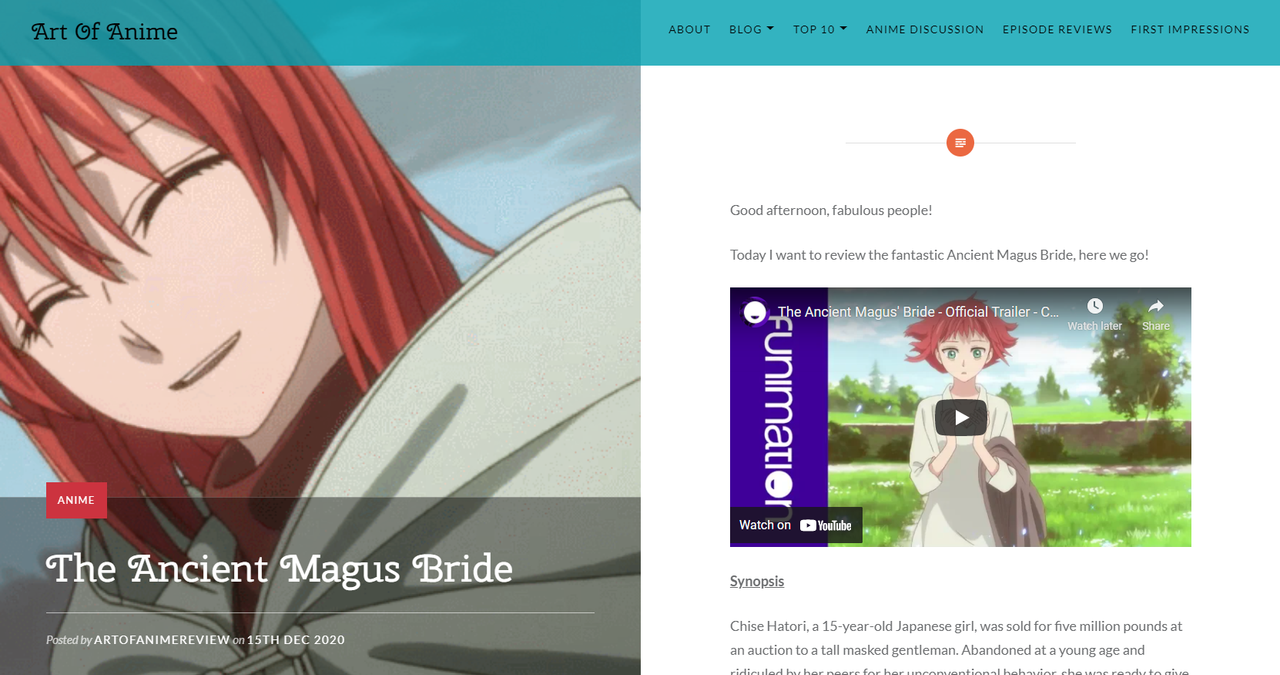 Now how can I not pass up Art of Anime's review of one of my favourite anime, I had to give my opinion here due to Art of Anime stating that mine was better then hers, which isn't true!
We all shouldn't compare our reviews, not at all! We should just blog the way we want to blog and write what's in our hearts!!
Truthfully I really enjoyed reading her review to The Ancient Magus Bride and love how she introduces us to all the vital characters and gets to the vital points of the anime and give her opinion throughout the review!!
I really recommend checking out Art of Anime's blog and give her a follow, you can also find her over on Twitter @artof_Anime, she is such an amazing person that has alot of potential in the blogging community!!
If you want to read more stuff from me then don't be afraid to check out my blog to read my most recent stuff, or looking below for some more posts. Also if you want to support How Anime Stuff Works, please consider buying me a KOFI, you can even show your support by liking or sharing this page!!!