Welcome, fellow otaku's, to How Anime Stuff Works and another two recaps of Horimiya, yep. you heard right, there's two! Mainly because I watched both episode 4 and 5 to this lovely show, I just forgot to write up a recap/review to this episode, Hahaha!
This episode shows us that we have finally reached the point where Hori's and Miaymura's relationship is undeniable with a confession from Miyamura after his friend from middle school makes Miyamura come to a realization about his relationship with Hori. What was Hori's reaction? Lets find out!
In the first half of the episode we see Tohru meeting Sakura, one of the student council members, after she losses some important paperwork, after spending some time with Tohru, Sakura grows an interest in him. However with it being revealed that Tohru isn't over Hori just yet, it seems that Sakura's feelings for him will have to remain a secret for now.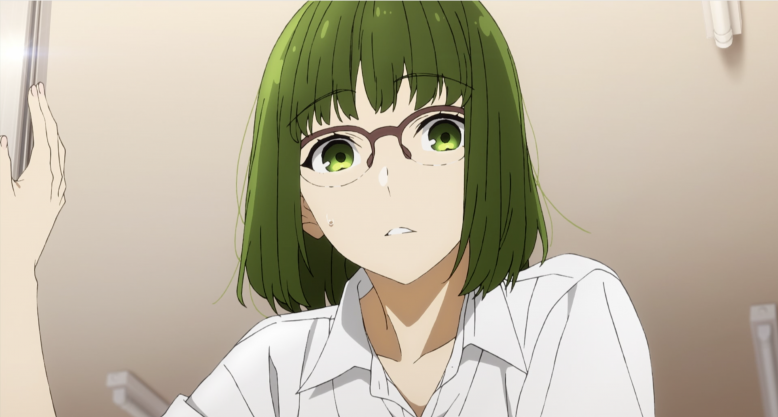 When Miyamura runs into an old friend from middle school, named Koichi Shindo, his teasing but kindhearted personality brings out a different side to Miyamura.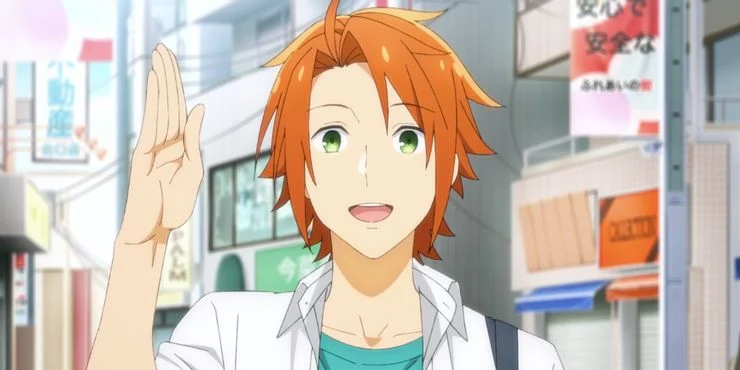 Shindo's appearance is a happy coincidence for Hori, who's been playfully trying to get Miyamura flustered, Shindo seems to be the only friend that Miyamura has from middle school, while all the other children bullied and ignored Miyamura, Shindo was the only one to show kindness to him. Shindo's outgoing personality helped Miyamura come out of his shell a bit and helped pave the way for Miyamura to open up a bit to Hori too.
After meeting with Hori for the first time, Shindo assumes that Miyamura and Hori are dating – partly because Miyamura fails to correct him. Upon hearing this Hori states the he doesn't need to clarify the situation at all. It's another subtle reveal of their true feelings, and Shindo's teasing further encourages the whole situation. But when Hori ends up ill that forces her to stay home, it leads to a emotional exchange between her and Miyamura.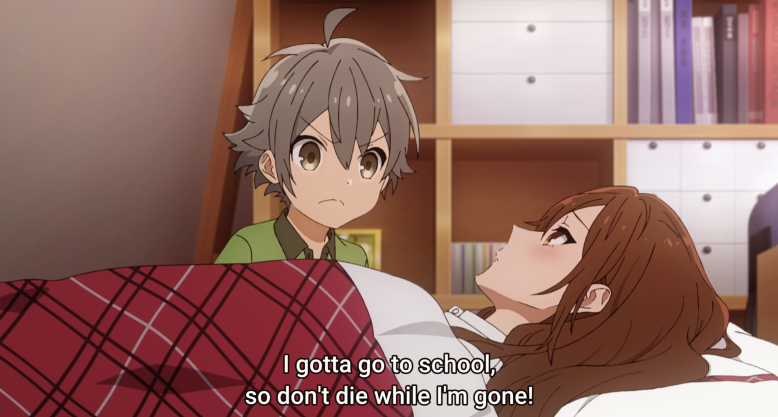 Though Hori ends up shocked that she ended up ill during the summer, being constantly overworked at school and at home was going to catch up to Hori eventually. Her exceptionally busy life comes from her mother working overtime, leaving Hori to look after Souta and run the home all on her own. When Souta tells Miyamura that Hori is ill, Miyamura hurries over with medicine and fluids for Hori.
Hori is overwhelmed by this as she isn't used to having other people take care of her. As Miyamura delivers the medicine and turns to leave, Hori stumbles out of bed and collapses on the floor. Crying, she repeats "Where are you going?" This is a side effect from Hori being left alone when she was a child due to her mother working all the time, even when she was sick.
Miyamura figures out what is going on with Hori, takes her hand and promises to stay till she feel asleep. Though her retains his quiet and calm demeanor, Miyamura's emotions are all over the place and running quite high. So high that while he was in the middle of caring for Hori, he admits that he loves her, and has done for awhile. Hori was laying in bed with her back turned to Miyamura, as he leaves it's reveled that she was awake the whole time he made his confession.
It is left unclear if Miyamura knew that Hori was awake, but his confession being right in the middle of some important advice tells us that he did know. It's hard to imagine Miyamura doing something so bold, due to him being the quiet friend that doesn't speak much, but as he acknowledges, Shindo in middle school and Hori in high school have opened his heart in so many ways, beyond anything that he has ever imagined.
My Opinion.
It's great that Sakura gets a bit of the spotlight at the very beginning, and from her interaction with Tohru, I do feel that we may be get to see more of her. Is there another budding romance brewing between her and Tohru? I sure hope so, I just think that Tohru deserves that little bit of happiness in his life but that does mean letting go of Hori to be able to move forward, would Tohru be able to do that I wonder?.
Regarding Sakura, I feel like she may have some insecurities herself, she doesn't come across that confident to me, even though she's hard working she seems to be the invisible one out of the student council.
I love that we got introduced to two new characters with Sakura and Shindo. It's great to know that Miyamura had one friend while he was going through a tough time and how Shindo brought Miyamura out of his shell more. Also learning a bit more about Miyamura's past was a bonus, considering that there's an air of mystery about him, I wonder if we will learn even more about him?.
Anyway this episode was a quite a good watch, that confession that Miyamura made to Hori finally happened and done in the style that suits Miyamura best, cool, calm and collected!! How is this going to affect he's friendship with Hori? Will Hori reciprocate his feelings finally? I am quiet excited to watch the next episode to find out!
If you want to read more stuff from me then don't be afraid to check out my blog to read my most recent stuff, or looking below for some more posts. Also if you want to support How Anime Stuff Works, please consider buying me a KOFI, you can even show your support by liking or sharing this page!!!