Hello Fellow Otaku's!
Today brings us a new anime that I picked up on a whim. I didn't want to pick up too much anime to watch as it can be quite a hassle to write up episode reviews for them all, especially for a beginner like myself. I spotted this anime floating around on Tumblr and Twitter lately and well I grew interested.
Granted skateboarding is a sport all on it's own that heavily relies on tricks, as well as being a recreational activity, heck it's even been made as part of the Olympics! But just how do you turn skateboarding into a sports anime with a bit of danger added in?
Well Studio Bones shows us how with this action packed and very colorful anime – SK8 The Infinity! I'm no skateboarding expert but even I learned a few lessons just from this one episode!
So without further ado, Let the games begin!!!
In the very first minutes of the episode we're treated to a race between Reki and Shadow, with Shadow pulling some "dodgy" moves, resulting in Reki getting thrown off his board and breaking his arm. It's a great introduction to exactly what the anime is about and gives us a quick glimpse into the sport itself.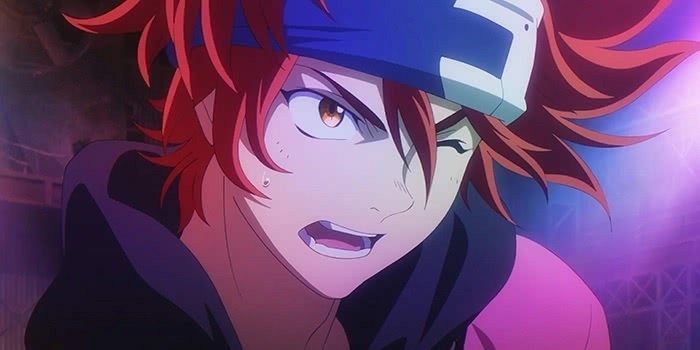 The following day, we get introduced to Langa, a half Canadian, half Japanese transfer student that moved to Japan with his mother from Canada. Nothing else happens till after school, which is where the story actually begins.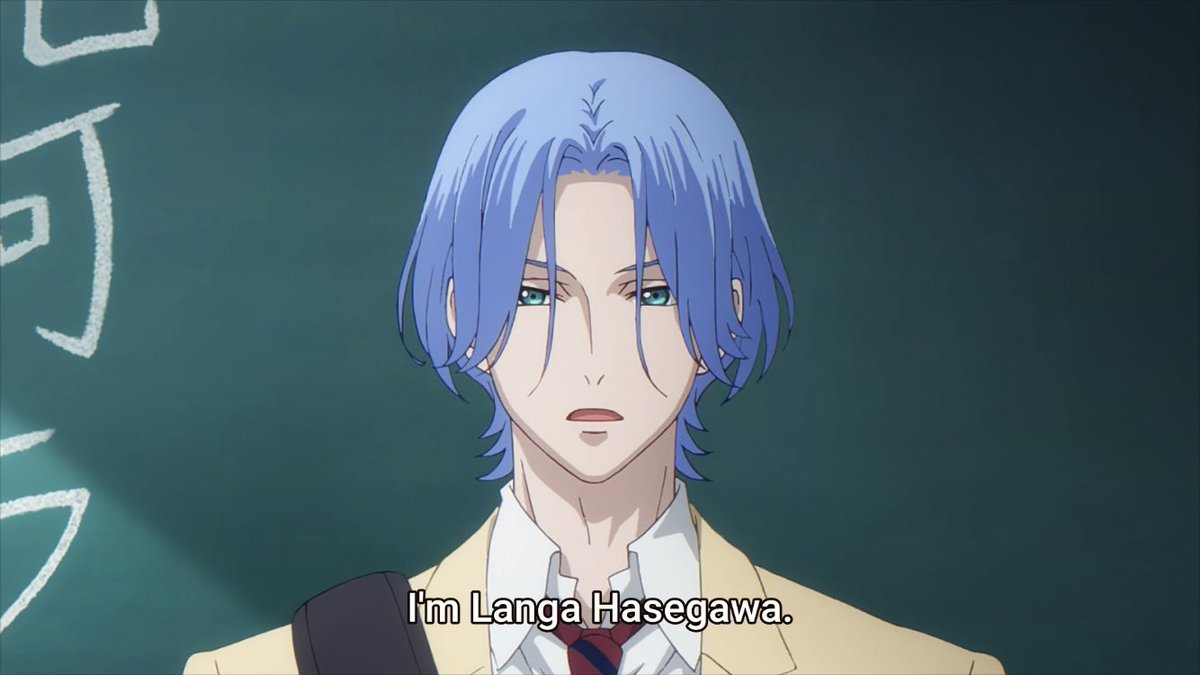 Langa lives with his mother and to help ends meet he decides to try and get a part time job, it's when he walks away from another rejection that he meets Reki, who was chasing his runaway skateboard. Langa tells Reki that he is currently looking for a part time job and that's when Reki mentions that there is a vacancy at the skateboarding shop that he works at.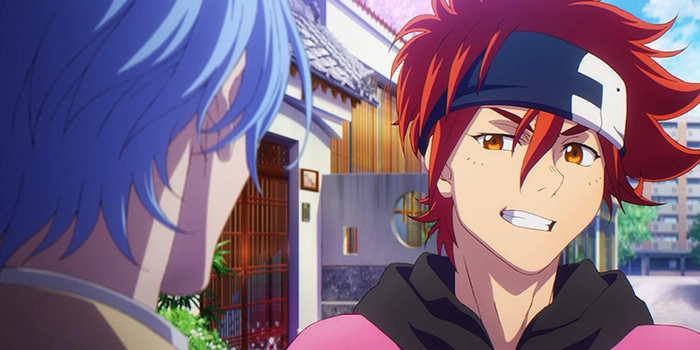 As they both approach the shop, the manager appears, he asks Reki if he can deliver a skateboard to one of their customers that is participating in the skateboarding race "S", Reki and Langa both accept the job offer and prepare to make their way to the race. While they wait for the race to open, Reki teaches Langa some of the basics on skateboarding and explains just what "S" is all about.
However once they arrive at the venue, Reki realises that he grabbed his own skateboard instead of the one created for the customer, even though he apologizes and offers to head back to the store to collect the skateboard, the customer demands that Reki participate in the race on his behalf as there was no time for Reki to get the other skateboard.
Reki declines due to his injury, so Langa offers to race instead, even though he can't stand on a skateboard and tapes his feet to it to keep his balance, what everyone doesn't know is that Langa is a experienced snowboarder and by taping his feet to the skateboard helps him treat it more like a snowboard but with wheels. Langa was able to adapt some of the skills he had obtained from snowboarding into the race, which helped him defeat Shadow.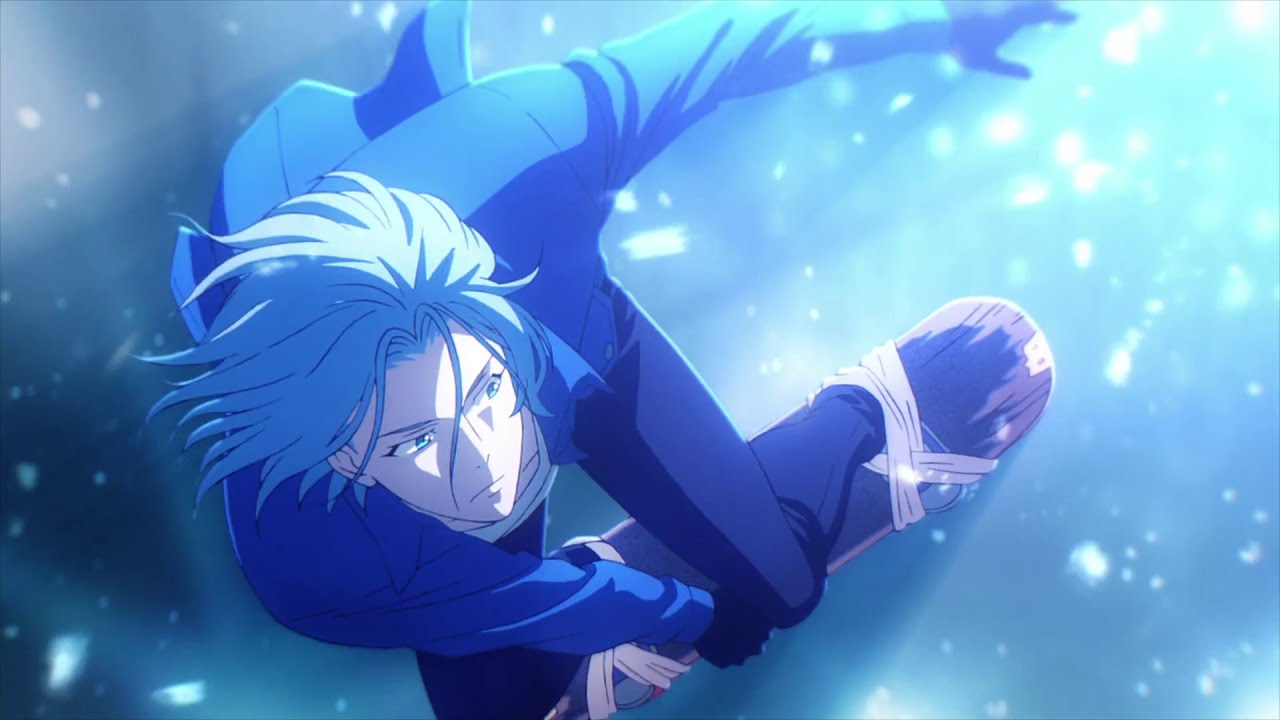 My Thoughts.
Straight away I'm blown away by this anime and can't believe that it's the underdog of the winter season. The visuals are amazing and really make some of the scenes stand out when they need too. The visuals in the ending sequence where Langa makes that epic jump just when Shadow throws those bombs really made it stand out and gave it alot of depth.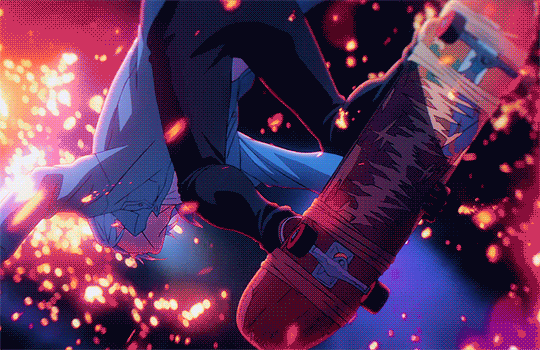 The entire race had me on the edge of my seat cheering Langa on, hoping that he'll atleast reach the finish line without any broken bones, Langa is quite the underdog that literally pulled out all the punches right at the last minute, I was floored that he managed to adapt his snowboarding skills to skateboarding right at a critical moment. Visually the show is amazing – colorful and imaginative character designs, excellent camerawork and catchy music during the skate races and the masterful lighting throughout makes this anime a delight to look at.
The characterization was pretty spot on, Studio Bones really knows how add some depth to each of their characters, and while they come across as zany it really matches up to the sport they choose to perform in. It does border ridiculous at times but it does pretty much matches the shows aesthetic.
Reki is quite a passionate character who describes skateboarding as a passion of his and works part time in a skateboarding shop. Reki does come across a bit of a funny guy at times with a light hearted sense of humor but he does tend to be a bit annoying there at times, while Reki is passionate about skateboarding, his passion does come across as a bit of a obsession at some points, which makes him quite oblivious to everything going on around him, though this does give him some pretty indepth characterization straight away.
Langa though is Reki's opposite, he is stoic, quiet and seems to take things in his stride thus he is able to adapt to quickly to new environments, which is shown during his race against Shadow. I do think that by being Reki's opposite, Langa will act as a good foil for Reki in future episodes. I do hope to see these two bond as I didn't get to see that during the first episode much sadly.
So far I think that Sk8 the Infinity will be one of my top fave's for 2021, it's very appealing with the visuals, the characters are very zany and likeable, and the sport itself with the races is very exciting and engrossing to watch.
Plus the opening and ending are so upbeat and eye catching!!!!
And I think that's a wrap for this recap, if you made it this far, Thankyou for reading!!
If you want to read more stuff from me then don't be afraid to check out my blog to read my most recent stuff, or looking below for some more posts. Also if you want to support How Anime Stuff Works, please consider buying me a KOFI, you can even show your support by liking or sharing this page!!!