Welcome, fellow otaku's, to How Anime Stuff Works!
I recently have set a goal to watch alot more anime this year and to start off I decided to pick up Horimiya, I don't know if I made myself clear but one of my favorite genres is shoujo, probably to a slightly unhealthy degree. So when I saw this I thought it was a good start to getting back into the anime pothole that I seemed to have climbed out off.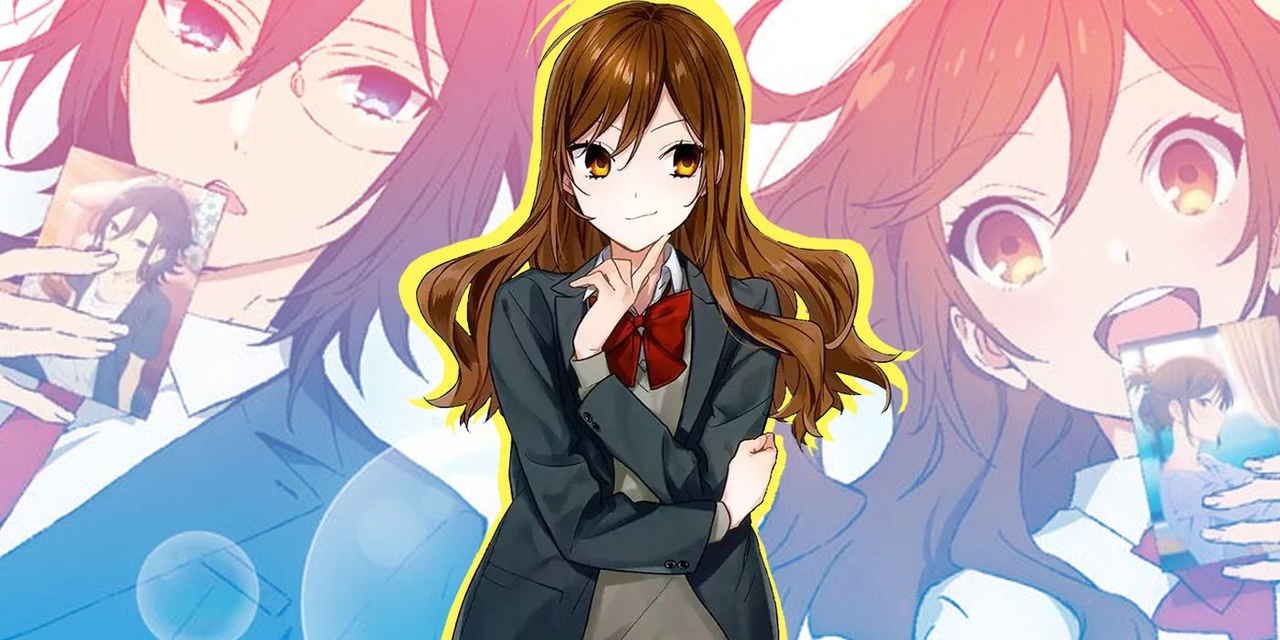 "Sometimes I'm not sure if you're incredibly bold or incredibly stupid." – Hori.
Horimiya revolves around the idea that people can life vastly different lives outside of the environment that they're normally seen in.
Take Hori Kyouko at school she is seen as the popular A grade student but behind the scenes she is a busy body, taking care of the housework and looking after her little brother, leaving her little chance to socialize outside of school.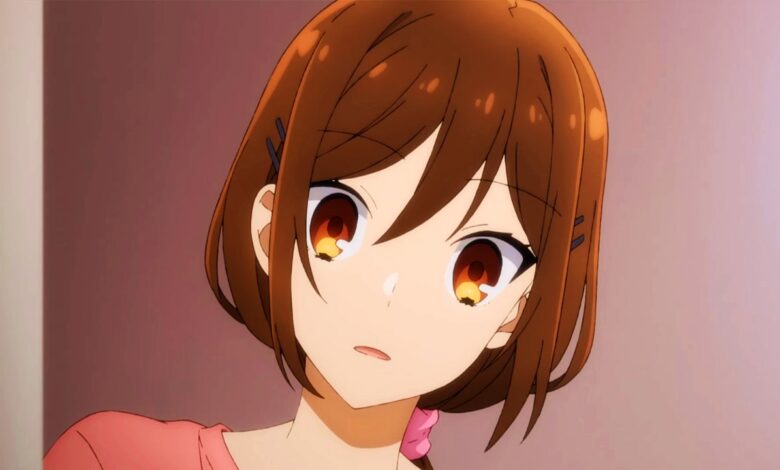 Then there is Miyamura Izumi, who is seen as a brooding, glasses wearing otaku, where in reality he is a gentle person that struggles with his studies, has nine piercings and a tattoo along his back and left shoulder.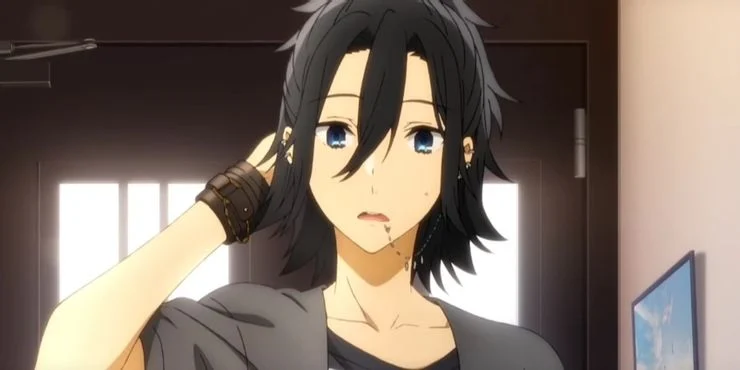 They both lived in separate worlds outside of school and that all changes when Miyamura helps Hori's little brother Sota after he got scared of a dog, fell over and ended up with a bleeding nose, Miyamura stopped by and helped Sota, even by walking him back home. However instead of being suited up with glasses, Miyamura has the look of a rockstar which makes him unrecognizable to Hori. Someone who doesn't often hang out with her friends due to having to take care of her brother due to her parents absence.
But once the truth is revealed it shocks Hori somewhat, but then she finds Miyamura interesting. In fact with her little brother, Sota, befriending Miyamura, Hori manages to fit him into her routine with Miyamura helping her out from time to time.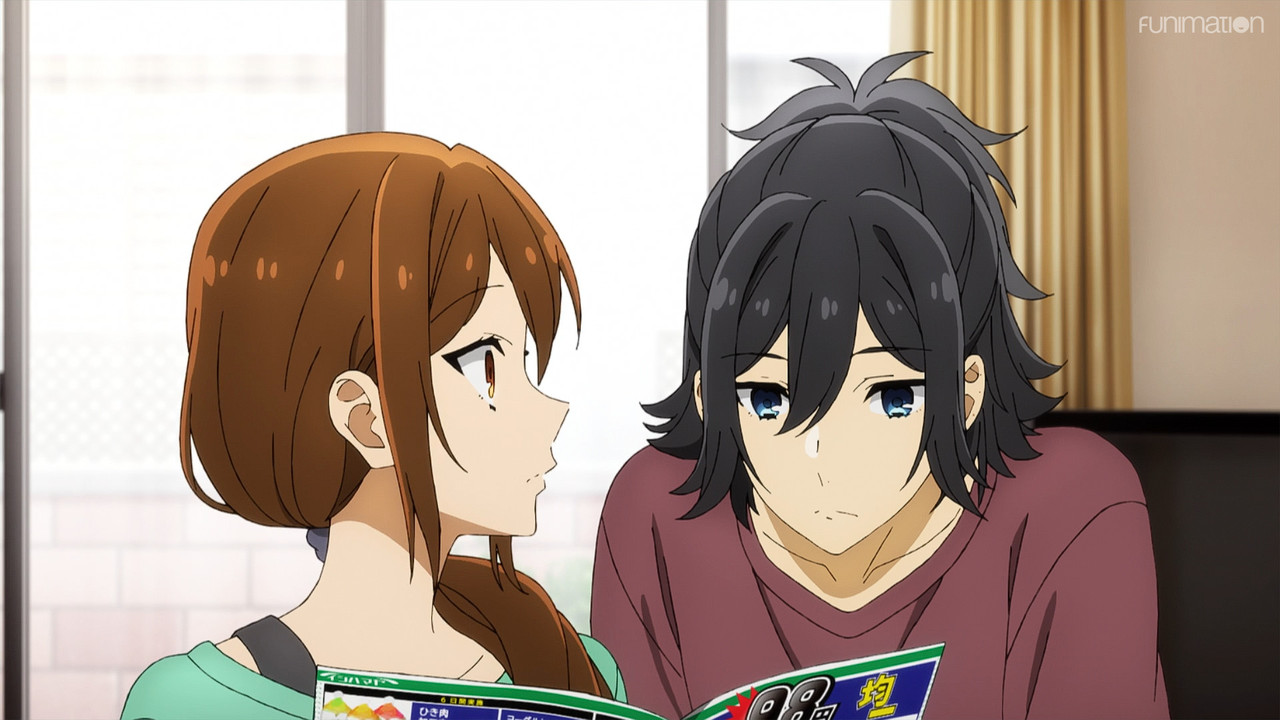 Hori even starts talking and taking notice of Miyamura at school which catches a little attention form other students in their class like Ishikawa, who has a crush on Hori. After spending some time talking to Miyamura, Ishikawa mentions that he is going to ask Hori out on a date to Miyamura and even asks Miyamura's permission to do so, even though when asked, Ishikawa admits that even he doesn't know why he is asking for Miyamura's permission, though it just feels right to do so.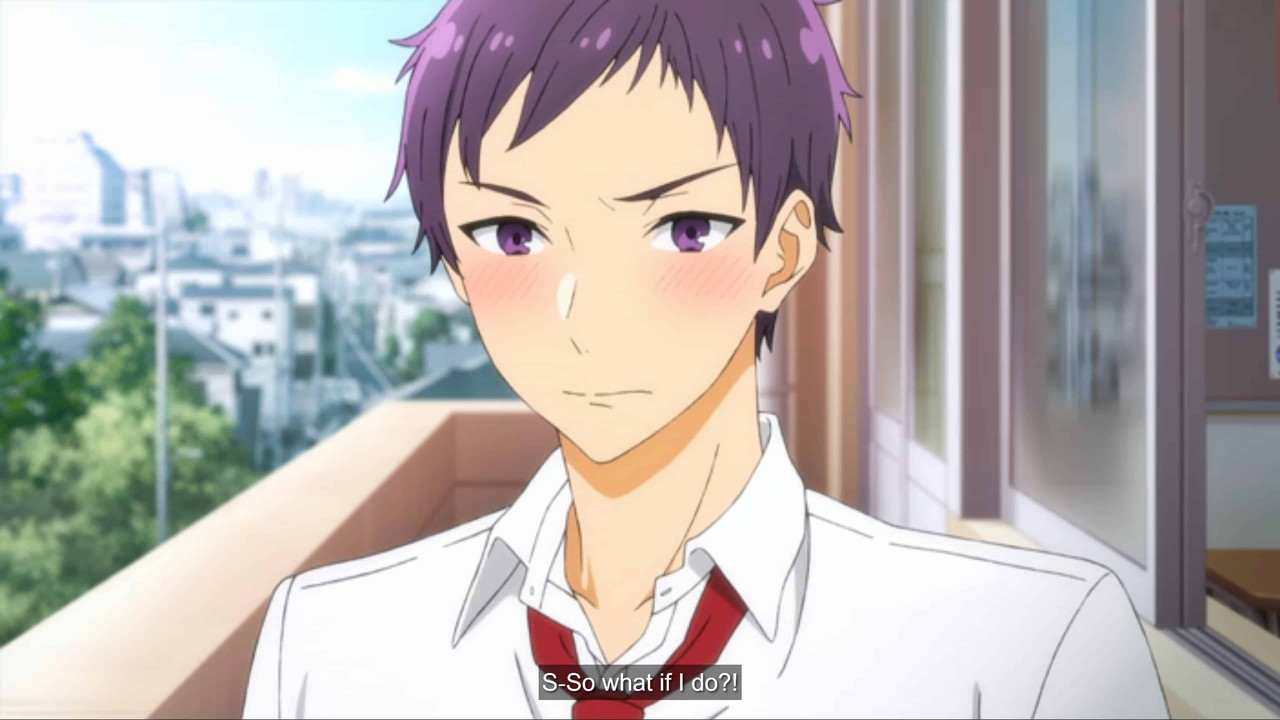 However there is a slight hint that Hori, after sharing her secret life with Miyamura, may have developed feelings for him and declines Ishikawa due to that. As for Miyamura having feelings for Hori, that remains to be seen, and depends if he can get past his insecurities.
My Thoughts.
This anime is just something I picked up on a whim, not knowing anything about it. Truthfully I never knew about the manga (which shows how much I'm out of that anime pothole..) but it has surprised me alot, The animation is just so colorful and fluid, it just feels like the whole entire episode managed to just fit perfectly together with each scene.
Like I just love the animation in this scene so much;
Just adding a little color to their shadows on a blank background just makes the scene pop alot more. But how can we forget the scene with Miyamura leaping over the school fence!
I find both Hori and Miyamura both interesting, Hori doesn't only seem to be the cute girl in school with a perfect life, in fact she has this super secret side to her life that she never reveals to anyone that can be delved into even more. There is no mention of her father, which leads onto the question of is her father even involved in her life? What happened to him? Is her mom struggling financially? And even how Sota feels about it, you can see Horimiya can go far deeper with its female protagonist than we commonly see in romances like this.
Especially with Miyamura's admittance to Ishikawa that they wouldn't be a good match at all due to them be so different and how Hori reacts to that. Her anger over that is expected in an romance anime like this but her crying and truly getting really emotional over that could throw you off since it pushes the idea that there is more to Miyamura that causes Hori to make him irreplaceable.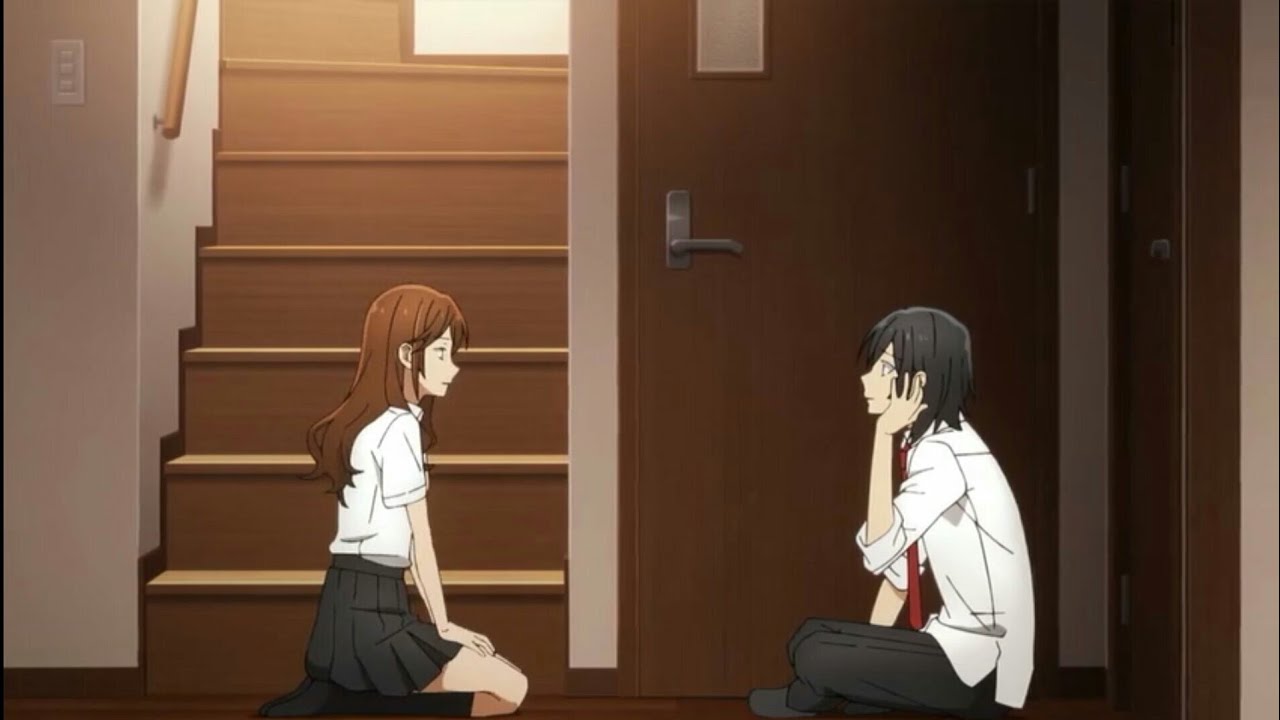 In alot of anime, the male protagonist usually comes across as just average, well to me anyway, but with Miyamura is just that slightly different and really intriguing, other then the way he dresses outside of school there isn't much more I know about him. It's just, knowing how conservative things are at school combined with his mother's disapproval, he doesn't have a place where the look he has developed can be freely expressed. And a male protagonist in a romance having a sense of depth early on, and not through dead parents and a sob story, that's new for me and draws me in.
What I also like about this little shoujo is the way Hori's and Miyamura's intimacy is played upon, it just shows that intimacy is beyond sex and can be many things. Usually the end goal of a shoujo is the protagonists falling in love but with Horimiya that isn't the case, In the first episode there's already hints of Hori having feelings for Miyamura and maybe Miyamura feeling the same. The intimacy that they have is something slightly different with it being them seeing each other's true self.
This anime is just so exciting to see and I can see it being up there with Mahoutsukai no Yome at some point! What did you think of the first episode? Don't be afraid of letting me know in the comments!!!!
If you want to read more stuff from me then don't be afraid to check out my blog to read my most recent stuff, or looking below for some more posts. Also if you want to support How Anime Stuff Works, please consider buying me a KOFI, you can even show your support by liking or sharing this page!!!